Community Outreach
Puerto Ricans in Action's community outreach is focused on raising awareness about Puerto Rico, the effects of Hurricane Maria, which hit on September 20, 2017, and the ways everyone can help.
Interior/Exterior Art Gallery - April 2019
Puerto Rico [In/Ex] is an exhibit at @artgallerygcc featuring Puerto Rican artists considering the cultural, economical, and political ramifications hurricanes Irma and María. Mark your calendars for the opening on March 1st and community event on April 6th.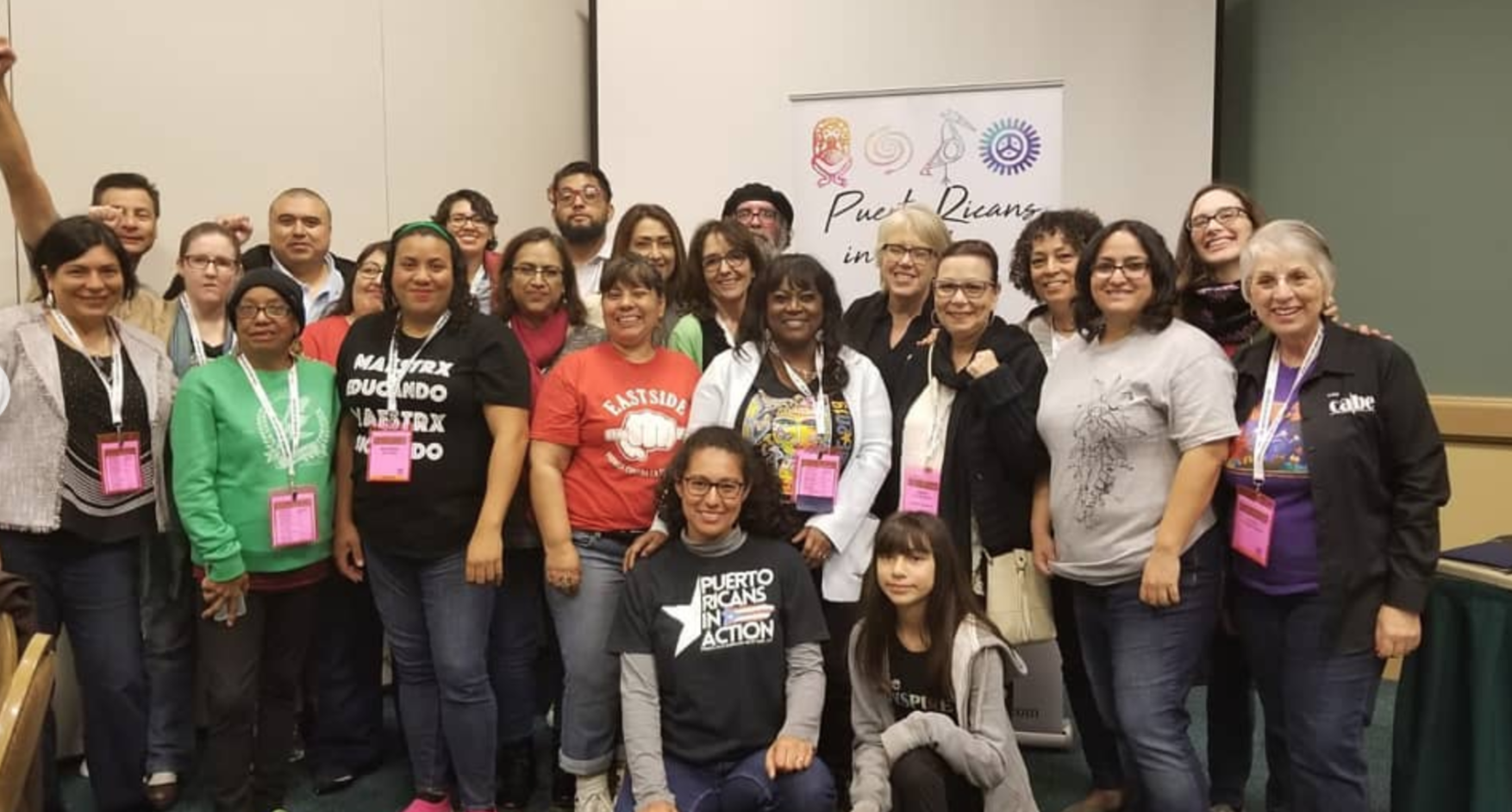 Cafe Literario - PR Struggle for Public Education - March 2019
Teachers, social workers, school psychologists from around California came out because they see their fight as one with the educators of Puerto Rico. Mercedes had the audience in tears as she went through the list of assaults against the youth in Puerto Rico via the Dept of Education, la junta, and the legislature. Families being forced to travel 45min to take their kids to schools because their neighbor school was shut down, kids with different learning abilities being bullied consistently, closed schools being sold and converted into business offices, charters with major investors coming in to privatize 10% of the remaining schools, schools going without proper facilities and remain inadequate to serve the growing number of student to teacher ratio that is now 35:1 or more.
Jam for Puerto Rico - March 2019
Descarga para Puerto Rico/Jam for Puerto Rico brings together world-renowned Latin Jazz and Salsa musicians living in Los Angeles to pay tribute to the people of the island. Proceeds from this benefit concert will help Whittier College students continue their support of the island's ongoing rebuilding efforts after Hurricane Maria.
Three Kings Day Parranda and Fundraiser - Jan 2019
Tis the season to be grateful but also to give back!
On January 6th for Three Kings Day Parranda & Fundraiser PRiA had a fun filled day with fun activities and while raising money to build a computer lab in Loiza.
IMPRISONED benefit Screening - Oct. 2018
IMPRISONED a benefit screening to help support Proyecto Aqua Limpia. Proyecto Aqua Limpia, the Clean Water Project, for Puerto Rico is raising money to provide water filters & replacement filters for thousands of families across the island. Over 15,000 filters have been distributed to date. We are extremely grateful to have this opportunity to shed light on the water crisis in Puerto Rico and continue to raise money for Proyecto Aqua Limpia.
Rockin' 4 Puerto Rico 2018 - Sept. 2018
The 2nd Annual Rockin' 4 Puerto Rico will take place Sunday, September 9, in Long Beach! Hosted by, "Those Guys" and our good friend @pdotgarrett from "Turn of the Century." We will be discussing Puerto Rico in it's current state and our clean water project with the Puerto Rico Science, Technology and Research Institute.
Levitt Pavillion Summer Concert - Aug 2018
We're excited to be appearing at the Levitt Pavilion Summer Concert Series, August 23rd! Come out to see THE DELIRIANS & JACKIE MENDEZ performing and visit us at the community partners booth to find out more about our work!
Polytechnic School - June 2018
The story behind this group of students is beautiful. One of their classmates is from Puerto Rico and after the hurricane they decided to dedicate their annual service learning project on hurricane relief. Over the course of 8 months we worked with them on research, planning and reflections. At the end, they raised over $500 for water filters from their community. On the last day of school they brought us back to celebrate and we couldn't be more proud and honored to have been a part of their project.
Battle of the Bands - January 2018
Indie Beats for Relief benefit put together a concert for Mexico and P.R. The event is part of a series that TrendCulprit is organizing to provide a launch pad for musicians and apparelo artists while supporting a cause.
North Hollywood High School - Dec. 2017
When North Hollywood High students reached out to us about hosting a donation drive we never imagined it would add up to this much. The Students collected and filled over 40 boxes of supplies to send to Puerto Rico.
Polytechnic School - Oct. 2017
We are embarking on a partnership with the fourth grade science class at Polytechnic. These four girls invited us to be presented at the school assembly when they announced their donation drive for Puerto Rico. We then held an interactive workshop for their class on how Hurricane Maria devastated the island, and then answered all of their questions. The students are very dedicated to this drive and we look forward to this partnership developing.
Turn of the Century Benefit Concert - Oct 2017
Turn of the Century is a 90's cover band based out of Long Beach, CA, and they reached out to us with the desire to raise money for solar power in Puerto Rico. The band allowed us to introduce our work and share our stories about our recent trip to Puerto Rico with their audience.
Reina Mora Benefit Concert - Oct 2017
Reina Mora was one of the first people to help us start our hurricane relief efforts, and so when she reached out to us to be a part of her concert we jumped at the opportunity. Reina is also a survivor of Hurricane George, which struck Puerto Rico in 1998. We were present to answer questions and fundraise for Puerto Rico relief aid.
Harvard House Benefit Music Festival - November 2017
The bands and men behind this local music festival were wonderful enough to include PRiA for this benefit event. Their goal was to raise money and awareness for the disasters in Mexico and Puerto Rico, and we were happy to be part of it. The music was fun and the guests actively asked us questions about our work and the status of PR.
Cali Hustle X Flowers RDM - October 2017
We have a BIG thank you to Flower RDM and Aponteporo for allowing us to part of their show at Los Globos in Los Angeles. This was one of our first public education opportunities and we got to speak to over 70 people about Puerto Rico.
Meeting Oscar Rivera Lopez
On May 31, 2017, we were honored to join the Bay Area Puerto Rican community in welcoming Oscar Lopez Rivera to California. The final audience count was nearly 300.
The hosts shared recent proclamations by both the Berkeley City Council, and San Francisco's County Board of Supervisors. Oscar took the stage and spoke about his gratitude for the men and women that fought for his independence for over 36 years (1981-2017). The event ended with an emotional chorus of La Borinqueña.
This halloween extravaganza was hosted by Goin' Up, Butter music + sound, Sonos, Hidden Track Music, and the band Lemaitre. We were honored to be the selected charity for the evening, that brought over 700 party goers.
On June 26, 2016, rallied against Senate Bill 2328, PROMESA, in solidarity with rally's across Puerto Rico, and the Nation. The protest was held outside the Federal Building in Downtown L.A.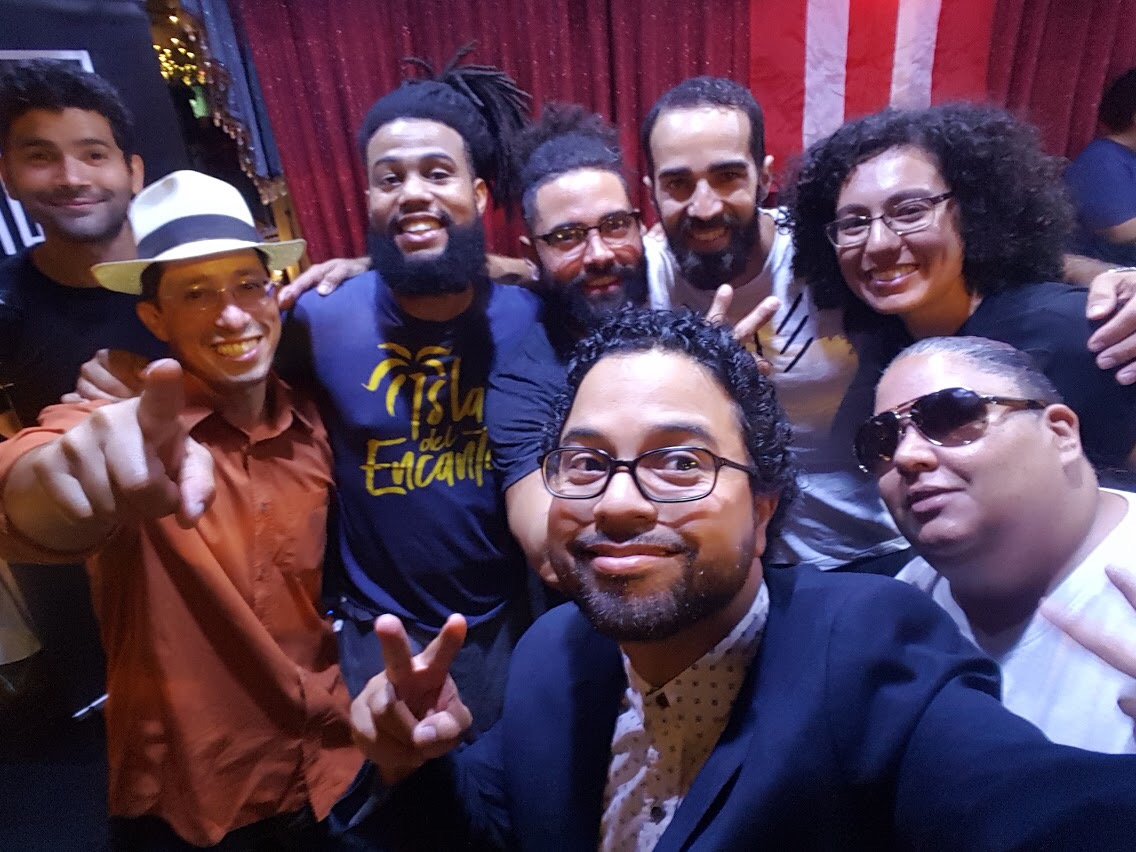 Hurricane Irma Benefit Concert at El Floridita - Sept. 2017
The night hurricane Irma made landfall in Puerto Rico, PRiA held its first hurricane relief benefit concert at El Floridita in Hollywood, CA, along with the local clothing line IAmHomeMade and the bomba band Cunya. El Floridita later became one of the donation hubs for Puerto Rico in the Los Angeles community.